I am working mother, so I have to be smart and fast.. this is fact which makes my techniques effective, and not so complicated even they looks like. They usually are just complex, it is many simple steps which can be separated between many short evenings which I have available for creating.
This causes I am not very productive artist and I found that I love to share my techniques, tips and tricks with other people and they can make lovely pieces itself. Of course, I have some pieces available here in my e shop, and I am offering only the best ones.
After almost 14 years of working with beloved fun polymer clay I can only say: my artwork is very colorful. I cannot help myself to stay with e.g. "black and white only". I use plenty of shades, sometimes bright ones sometimes subdued ones, but always a lot of them. I love to play with colors, I am focused on them. Regarding techniques I used to be experimenting with inks, paints and mica powders and micro mosaic art at my beginnings a lot. Last couple of years I went back to simple cane work and clay only techniques, and sometimes I combine it with other media if it express my ideas better.
I am often creating small pictures to wear – brooches, inspired by flowers, animals, ancient art and sometimes by comics. I like the story behind.
Very recently, I started with wall art pieces, which are particularly challenging. I am using to make simple sketches with notes a lot, but usually the result is driven by clay more then by my sketches. I share lot of my ideas within workshops and tutorials.
I love teaching to meet the same crazy creative people as I am. Now only on- line but it is also not bad at all!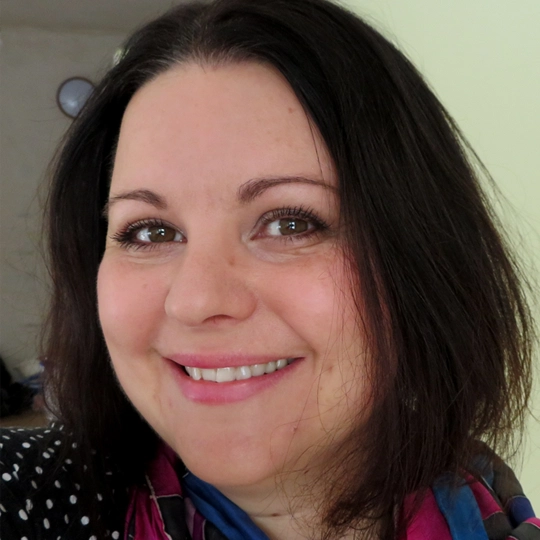 Pavla Čepelíková
Founder